Does my child need a pediatric dentist?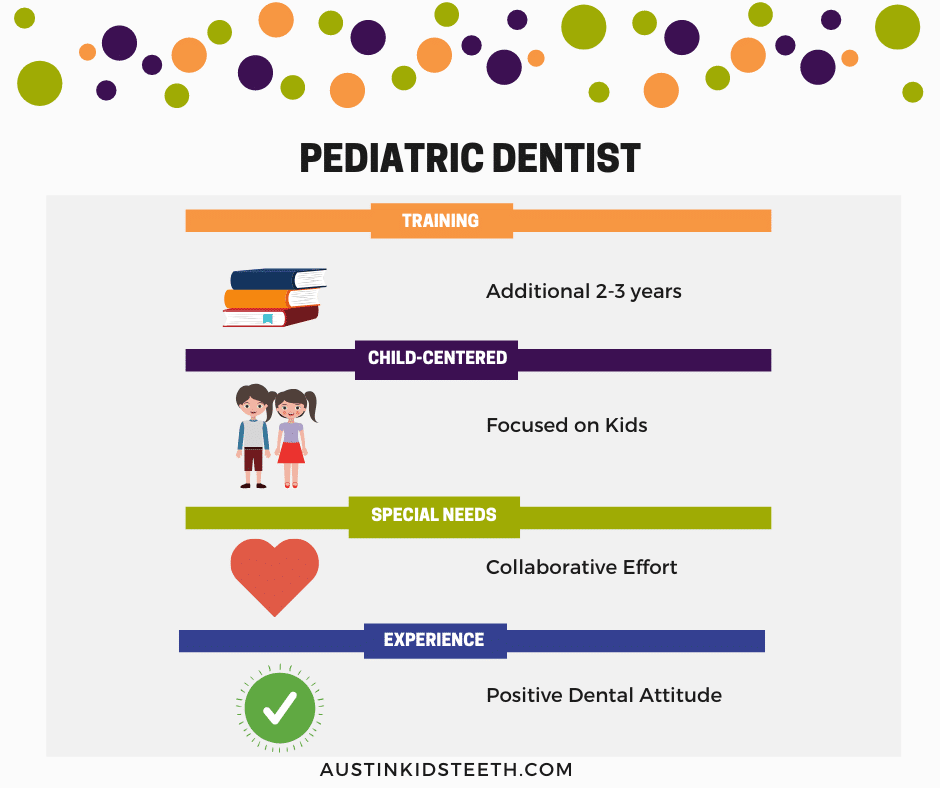 Does My Child Need a Pediatric Dentist?
Teeth begin to erupt in babies when they are around six months old, and from the time these first teeth emerge through their teen years, children should have regular visits to a pediatric dentist to ensure healthy teeth and gums. Since you choose a pediatrician for your child's medical needs, why not also choose a pediatric dentist who has special training in children's oral health? At Austin Kids Teeth, our pediatric dentists can see children from infancy through the teenage years.
What is a Pediatric Dentist?
Pediatric dentistry offers specialized care for your young ones and is an entirely different experience than going to a family dentist. Pediatric dentists complete dental college plus an additional two years of education specializing in pediatric dental health and how the mouth and teeth change as children grow. Because they treat only children, they will be more familiar with child psychology and are experts in creating a positive experience while providing great dental care. Pediatric dentists also have dedicated training in treating children with special needs or serious medical issues.
What are the Differences Between a Pediatric Dentist and a General Dentist?
Family dentists practice general dentistry for people of all ages, but pediatric dentists spend their time treating only kids. Here are a few differences:
The office is designed for kids: It's essential for your child to feel comfortable at the dentist. Most pediatric dentists offer toys, gadgets, comics, video games, and other activities for children in the waiting room, as well as kid-friendly prizes at the end of each visit, creating a comfortable environment with a fun atmosphere for your child to enjoy. Instead of remembering the procedure, your child will remember all the fun activities at the dentist and look forward to the next appointment. A pediatric dentist also uses specifically-designed dental tools just the right size for your child's mouth and jaw to make dental procedures more comfortable.
Pediatric dental teams use kid-friendly language while completing exams, cleanings, and treatments: Pediatric dentists explain preventive care, hygiene, and treatments in simple, easy-to-understand terms. Our team shows your child each instrument they use and explains what it does. It's our way of making dental visits entertaining and educational. Because we focus on children, we have many tricks up our sleeves for coaxing children to cooperate and have a good time at their dental appointments.
Pediatric dentists are specially trained to deal with anxiety in children: They have experience in dealing with the behavioral aspects of children, how to make them feel comfortable and less anxious, and make the entire visit to the dentist pleasant.
Why are Regular Dental Visits For Kids Important?
Like adults, children need regular oral care to ensure healthy teeth. The sooner children begin getting regular dental checkups, the healthier their mouths will stay throughout their lives and the more comfortable they will be in the dental chair.
Creates good oral hygiene habits from a young age: When you take your child to the dentist at a young age, they're less likely to develop dental fears. Instead, they'll build good oral hygiene habits that last for the rest of their life, learn that the dentist is a safe place and can be fun, and develop a positive attitude about twice-yearly dental checkups.
Oral problems can be caught and treated early: Regular dental visits are the key to a healthy smile. When your child's teeth are checked regularly, any issues that arise can be easily detected and treated, saving you time and money later on.
Ensures healthy development of your child's teeth: Baby teeth are the starting ground for adult teeth – so when baby teeth are healthy, it's easier for adult teeth to come in healthier. Pediatric dentists will monitor your child's oral development and make recommendations as necessary.
Pediatric Dental Office in Austin, Buda, Belterra, and Bastrop, TX
At Austin Kids Teeth, we understand how scary a visit to the dentist can be to a child, and we strive always to make it a positive dental experience for you and your little one. Our experienced pediatric dentists and the entire dental team are committed to giving your child the most compassionate, comfortable, and communicative dental care in Austin, Buda, Belterra, and Bastrop, TX. Contact us today to schedule an appointment!
Please see our
FAQ
to answer many frequently asked questions.