Austin TX • Buda TX • Belterra TX
Proper oral hygiene is a vital part of your child's overall health and wellness, but regular, well-baby dental exams are crucial to ensure that your baby's oral development is on the right track. At Austin Kids Teeth, we provide comprehensive well-baby dental exams to our young patients in Austin, TX. Pediatric dentists are for infants, toddlers, preschoolers, and beyond. They can help your baby get a strong start on their oral health journey.
When Should I Bring My Child to the Dentist?
The American Academy of Pediatric Dentistry recommends that children have their first dentist appointment when their first tooth erupts or before they celebrate their first birthday. Baby teeth, also called primary teeth, are just as important as adult teeth. They play a vital role in proper chewing and speaking and serve as placeholders for the adult (permanent) teeth that will come in throughout childhood and early adulthood.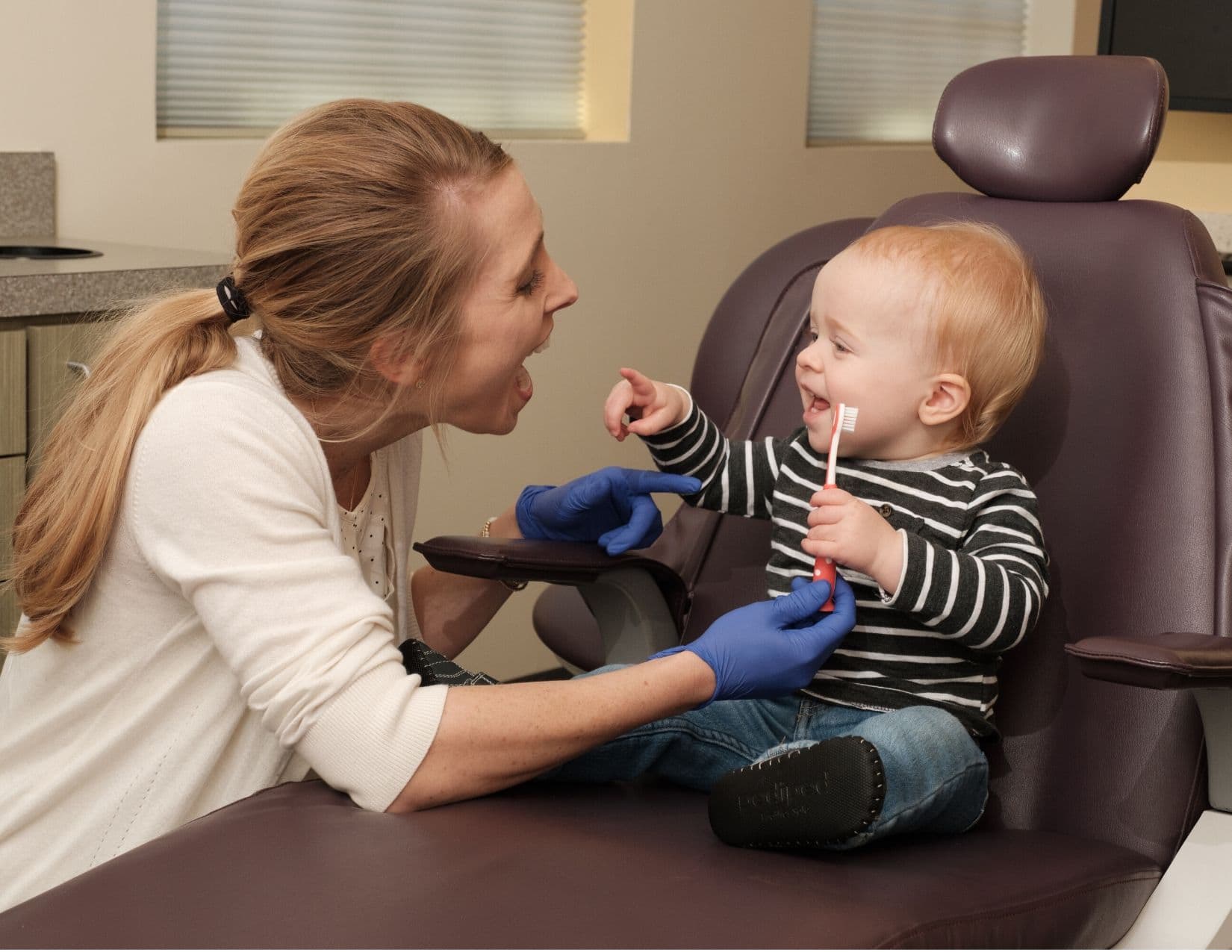 What Happens at a Baby's First Dental Appointment?
During your child's first dental visit, the first thing we'll do is spend a few minutes getting to know you and your child and discussing what we'll be doing. We understand that a pleasant, comfortable first visit builds trust and helps put your child at ease during future dental visits. Here's what you can expect:
Check for any early dental issues or concerns: After everyone is acclimated, we'll perform a gentle examination of your child's mouth. During this examination, we'll look for any signs of tooth decay so that we can prevent, or even reverse, the early stages of tooth decay without the need for drilling.
Educate parents on how to care for the child's teeth and prevent cavities: After the examination, we'll go over various ways to keep your child's oral health at its optimal level. We'll discuss oral hygiene tips, proper dieting and nutrition, and the best ways to prevent tooth decay.
If any treatments are needed, we'll explain what they are, how they're done, and why we recommend them.
Benefits of Regular Pediatric Dental Care
Your baby's first dental visit provides you with the opportunity to ask the dentist questions about your child's dental care—as well as acquaint your child with visiting the dentist. Here are the benefits of well-baby dental exams: 
Reduce dental anxiety

: Well-baby exams get the child accustomed to coming to the dentist early, helping eliminate dental anxiety later on.

Build oral hygiene habits that will last a lifetime

: Good oral hygiene habits are developed right from infancy. Bringing your child for a

well-baby dental exam

will help instill positive dental care habits in them. Your child will grow up understanding the importance of good dental hygiene and will stick with these lessons even as an adult.

Disease prevention

: Helps parents stay on top of any oral health issues in their child that can be addressed and even prevented from an early age

Help with bite development

: Your dentist can get early clues that a child's teeth are not erupting properly and are on the way to developing a poor bite (malocclusion). If so, they can initiate measures to lessen the impact of a developing malocclusion, like installing spacers to help guide an erupting permanent tooth. Early intervention can reduce the extent and cost of later orthodontic treatment.
Well Baby Exam Cost
Insurance typically covers well-baby exams since they're considered to be preventive care. 
Dentist for Infants in Austin, TX
It's essential to take care of your child's oral health to give them a healthy start in life. At Austin Kids Teeth, it's our goal to help your children develop a lifetime of healthy teeth and healthy habits. If you're looking for the right place for your child's pediatric dentist in Austin, TX, contact us today to schedule a consultation!